A broad mind, generous heart, unflinching will, quiet, steady determination, inexhaustible energy and total trust in one's mission—this makes a perfect doctor. The chief role of the doctor is, by various means, to induce the body to recover. Their job is not just to treat their patients but also to give them the courage to recover.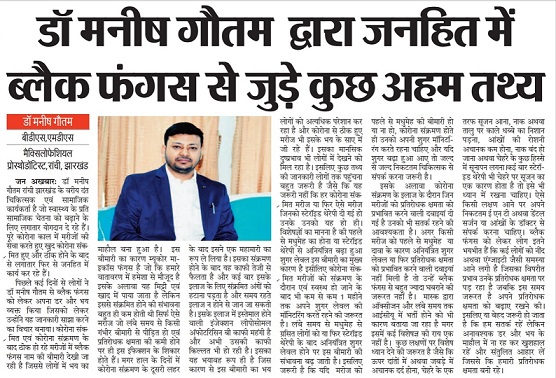 Dr Manish Goutam not only offers a medical remedy to his patients, but by all his heart, he instils the will to fight in them. He goes beyond his duties to share the same feelings, fears and happiness as his patients, often working for incredibly long hours, getting little rest to save lives.
Dr Goutam is an alumnus of Saraswati Shishu Vidya Mandir Barganda Giridih, where he studied till the 5th standard. He then shifted to BNS DAV Public School Giridih, where he passed out as topper of school in his 10th Board exam. Then he went to Kota for medical entrance coaching.
From Kota, he cleared the medical entrance and took admission in People's College of Medical Sciences and Research Centre, Bhopal, to earn his Bachelor's Degree in Dental Surgery. He then cleared the Madhya Pradesh Dental/Medical Admission Test (MP DMAT) and completed his Masters of Dental Surgery from Rishiraj College of Dental Sciences, Bhopal.
Dr Goutam has a specialisation in Maxillofacial Prosthodontics, a speciality of dentistry that deals with the rehabilitation of patients with acquired and congenital defects of the head and neck region. These range from minor to major functional disabilities combined with cosmetic disfigurement.
He currently works at RIMS (Rajendra Institute of Medical Sciences) Medical College in Ranchi, Jharkhand.
Often he has to deal with cancer patients who are in a very critical state.
"A cancer patient who had come to me was on a liquid diet for as long as 2 to 3 years. He had surgery done, after which he could only consume liquid food through a pipe inserted through his nose to his throat. We did a prosthetic surgery of his nose and mouth and he was able to consume solid food after so many years," recalled Dr Goutam.
Dr Goutam also gets involved in several social activities. He runs regular medical camps in remote areas to help people quit smoking. "We organise health camps as well as run 'no tobacco' campaigns, tobacco cessation training, cancer awareness camps, general awareness campaigns on health and campaign on lady doctor security in remote areas," mentioned Dr Goutam.
Tobacco is one of the main causes of cancer in India. Dr Goutam offers pharmacological treatment to help people quit smoking and does a lot of counselling, often by sharing live cases of cancer patients.
"When people see someone suffering, they quit smoking out of fear. This is helping people a lot to stay away from tobacco," shared Dr Goutam. He also rehabilitated many patients who lost their jaws, tongue and facial parts due to surgical treatment with prosthetic replacement to make their quality of life better.
The COVID times have been very challenging for all. RIMS being one of the largest hospitals in Ranchi, has to deal with several COVID patients daily. These patients often come from remote villages and are almost always accompanied by their families.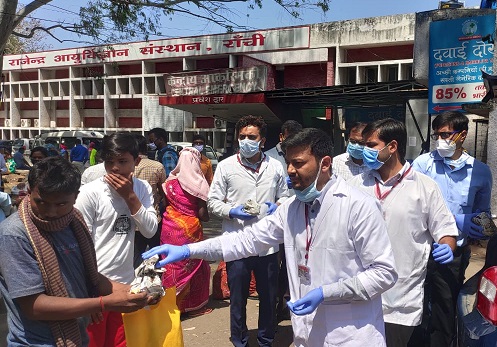 Dr Goutam saw that due to the lockdown, these people were not getting food. His deep empathy towards unprivileged sections of society led him to start a self-funded food distribution program throughout the lockdown for the families of patients admitted at RIMS.
This humanitarian service of Dr Goutam became so popular that he was appreciated and thanked by the Health Minister of Jharkhand on the social media platform Twitter.
Dr Goutam is also an accomplished researcher and has published numerous papers in the world's top medical journals.
"Stepping ahead in Dental science I have accomplished academic research and published 30 international research papers till now in journals like Journal of Prosthetic Dentistry which is the official journal of American society of Prosthodontics," mentioned Dr Goutam.
Dr Goutam is also the youngest doctor in India to date to have published a paper in the journal.
"I published a paper on a patient whom I had treated. A 15-year-old boy had come to me who in an accident had lost one of his eyes. I placed an artificial eye which would move, with the help of muscles, just like a normal eye," recalled Dr Goutam, who is also the editor in chief of Journal of Applied Dental and Medical Sciences.
Dr Goutam also offers free treatment to people from a poor background or children and senior citizens who are not economically sound. He does all the treatment and bears the lab cost by himself to help unprivileged sections of society.
Further, he and his wife, Dr Madhavi Singh, organise free medical camps where they offer free medical checkups and distribute free medicines to the needy. Madhavi Singh is also a Dental Surgeon and owner of Dentica Dental clinic and Implant centre.