Back to the Top of the Class
Dr. Elizabeth Garrison, the Muhlenberg College valedictorian in 2017, just graduated at the top of her class from NYU's College of Dentistry.

By:



Mike Falk



 Thursday, May 27, 2021 11:43 AM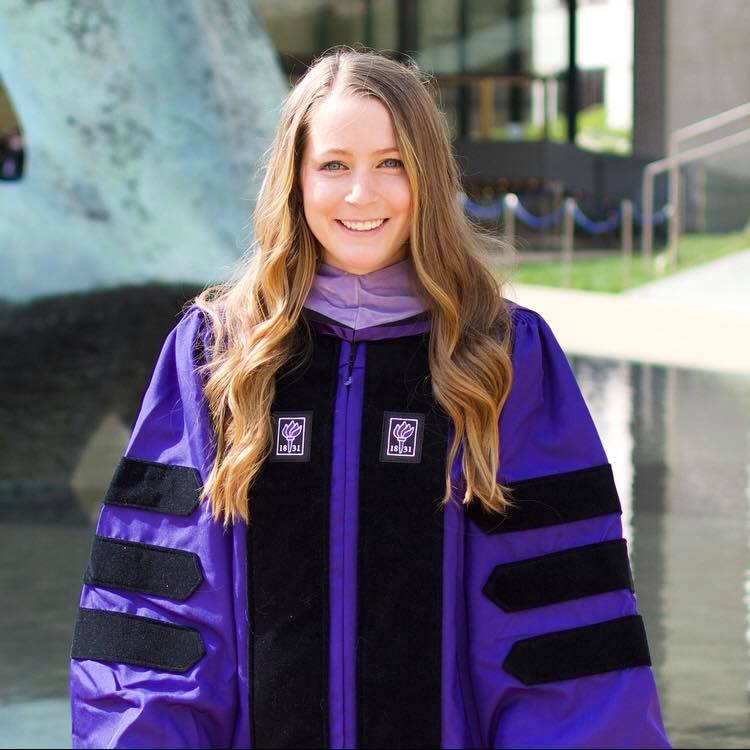 Dr. Elizabeth Garrison was named valedictorian at the 2021 commencement of the New York University School of Dentistry.
You don't have to pull teeth to get Elizabeth Garrison '17 to talk about how valuable her Muhlenberg education was.
Garrison was the valedictorian of the Class of 2017, finishing with a perfect 4.00 grade point average, completing the prehealth track, a major in chemistry and a minor in business administration. Four years later, she repeated the feat, graduating first in the New York University College of Dentistry Class of 2021, which included more than 360 students from around the world.
"Both were really surreal," says the two-time valedictorian. "I think at Muhlenberg, maybe halfway through, I kind of realized that maybe I could do it. So it was something I really pushed for, maybe sometimes a little bit too hard.
"When I went into dental school, I set more boundaries for myself and wasn't so focused on getting the good grades. And so when it ended up working out that I was valedictorian at NYU Dental, I was kind of in shock. I think that just goes to show that there is an importance to balance."
Although her approach may have been different, Garrison found some similarities in her undergraduate and postgraduate experiences.
"One thing that was kind of similar was the degree of difficulty," she says. "Muhlenberg classes as a chemistry major, especially the upper-level ones, really prepared me to deal with the kind of advanced course load. That was one big helpful thing from Muhlenberg."
Garrison, who will enter a one-year residency program at Morristown (New Jersey) Medical Center before looking to go into private practice, was also prepared from a time-management standpoint, using skills she learned as a student-athlete. A four-year member of the Muhlenberg volleyball team, Garrison was a two-time Academic All-American. Coaches, faculty members and advisors all contributed to her path.
"Muhlenberg had so many resources available to me," she says. "There's a little chemistry area with all the faculty offices, and I would hang out there all the time to get help. All of the faculty I had were super helpful and really set me up for success."
Although Garrison majored in chemistry—not unusual for dental students—she also learned lessons in other fields—not unusual for students at liberal arts schools. As part of her business administration minor, she took a leadership course, which she found particularly invaluable, in her final semester.
"My recommendation to anyone who's looking into predental is yes, take your predental courses, but also do what you're interested in," she says. "You can still get into dental school with a philosophy degree or some something more artsy. And I think it kind of makes you stand out; it shows that you're interested in other things, which is really helpful."
Going to Muhlenberg as an undergraduate also helped Garrison stand out.
"Muhlenberg has a good reputation," she says. "When I interviewed, they recognized this school had some good applicants from there before, so it definitely helped me."
And having a Muhlenberg grad finish first in her class should help future NYU Dental applicants.
This article was written based on an interview with Garrison as part of the Muhlenberg Mules Podcast.