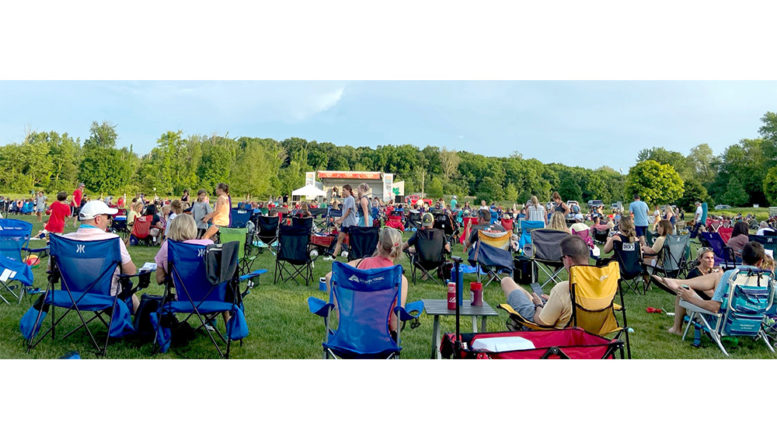 The Noblesville Parks and Recreation Department wrapped up the 2021 Summer Concert Series, presented by STAR Bank, on July 29 with its largest attendance in four years. The event lawn at Dillon Park hosted nearly 10,000 attendees during seven free weekly concerts, which included local favorite bands such as Dave & Rae, Endless Summer Band and Parrots of the Caribbean.
"We are proud of the number of our friends and neighbors who were able to safely enjoy live music right in their own backyard during the 2021 Summer Concert Series," said Noblesville Parks Director Brandon Bennett. "Additionally, we are thrilled to have partnered with STAR Bank the past three years and appreciate their generosity and commitment to offering free concerts to the Noblesville community."
The city, along with STAR Bank, would like to thank the 9,800 concert attendees for their support. The Thursday night concert series is the longest running series of its kind in Hamilton County and takes place each summer during June and July at Dillon Park.
"Building authentic relationships is one of the core values STAR Bank was founded on more than 78 years ago," said STAR Bank President Tom Wright. "My wife and I enjoyed our favorite bands and time together, along with our children and grandchildren. Noblesville is a well-regarded extension of our STAR family. We are proud to support Noblesville Parks and Recreation and this community through our sponsorship."
The annual Noblesville Summer Concert Series is funded 100 percent from donations. In addition to presenting sponsor STAR Bank, the city thanks these fellow sponsors: T-Mobile, Hallmark Orthodontics, Urban Air, Logan Street Signs & Banners, Boomerang Development, LLC., Noblesville City Councilman Greg O'Connor, and Aspen Creek Grill.