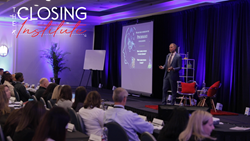 ""This Really Boosted My Practice Exponentially, almost 500% in Accepted Cases Within My Dental Practice."- Dr. Curry Leavitt From Red Rock Periodontics & Implantology

LAS VEGAS (PRWEB)
October 03, 2021
The Progressive Dental Marketing team hosts their last practice growth seminar for the year, The Closing Institute, in Las Vegas, NV on October 8th & 9th. The Closing Institute is an all-inclusive program that will give doctors and their team the exact techniques used by the top dental implant practices in the country. The Closing Institute teaches its attendees how to grow their full-arch production and develop their team to strategically and consistently close sales on high-revenue, full arch procedures. This exclusive continuing education course also covers dental advertising and marketing for dentists and dental specialists. The course is held throughout the year in Clearwater, FL and Las Vegas, NV. Progressive Dental Marketing specializes in providing dental consulting and marketing tools such as dental website design, custom videography and social media marketing. Bart Knellinger, the founder and CEO of Progressive Dental Marketing, along with his team, guide clinicians and their staff through scenarios that bring in qualified patients for competitive, niche treatments.
"Dr. Hoss and our team have had a great time at The Closing Institute bootcamp in Clearwater. It is a very active and engaging experience in learning about the closing process and how to be a more effective team. Bart and Gerritt as well as their team have made this a wonderful experience and I look forward to learning more value building and team building exercises in the future," said Amber Humphrey from Neil Hoss DMD of the latest Closing Institute event.
The Closing Institute provides valuable information and skills to dental professionals and their staff from a variety of specialties. From general practitioners to orthodontists, prosthodontists and oral surgeons, specialists can receive training from a team that understands their current state and what steps need to be accomplished in order to reach their unique practice goals. Participants will learn communication strategies to acquire new patients for a variety of procedures, increase treatment plan acceptance rates, incorporate reviews and testimonials into their practice, and learn marketing and dental advertising techniques to utilize in their office.
"The only reason people don't market is because they're afraid they can't monetize… through The Closing Institute we take dental practices to the NEXT LEVEL," says Gerritt Cora, Vice President of Progressive Dental Marketing. He is also one of the main speakers along with CEO & President, Bart Knellinger, at the course.
Progressive Dental created The Closing Institute because they understand that gaining the patient's trust, overcoming objections, and coming up with a solution to fund treatments can be intimidating for even the most seasoned salesperson. PD has seen first-hand through working with thousands of practices over the years, many treatment coordinators have been put in this role without learning any cutting-edge sales techniques, coaching, or guidance to address the needs of the educated consumers. Simply put, they are overlooked when it comes to sales training and lack the support necessary to convert high-dollar procedures. This all-inclusive program will give its attendees the exact techniques used by the top dental implant practices in the country.
Progressive Dental Marketing has hosted 5 other Closing Institute boot camps both in Las Vegas and Clearwater Beach this year. The October 8th & 9th Las Vegas Closing Institute boot camp is the last event of 2021 so make sure to register and spend two days discussing the sales techniques and closing strategies needed to convert high-dollar dental implant cases in volume, all while networking with likeminded practices from across the nation. The Closing Institute is a 12 ADA CERP and AGD PACE approved continuing education (CE) credit course for dental clinicians who attend. Hygienists and front office staff are highly encouraged to attend as well. Not only will staff members be able to receive advanced coaching, but they will also work together with their team and leave the course with clearly aligned goals.
To learn more about Progressive Dental Marketing, receive a dental consulting consultation call 727-286-6211 or visit http://www.progressivedentalmarketing.com/catalyst/.
About the Company:

Progressive Dental Marketing (PD) is a one-stop consulting firm specializing in marketing and promoting dental professionals through individualized marketing campaigns, practice development, continuing education, advertising and more. Their goal is to provide individualized services to each client and assist them in reaching their unique practice objectives through strategic marketing and support services. Over the last 12 years, Progressive Dental Marketing has found particular success marketing dental implants and full arch dental implants. They strive to enable each office to reach more individuals in their target demographic and convert them into lifelong patients through office training and coaching.
PD has become one of the fastest growing companies in the industry, due to constant innovation, growth and long-term client retention, and ranked on the Inc. 5000's list of fastest-growing private companies in America in 2018 and 2016, and on the Inc. 500's list in 2014 and 2015. The company has partnered with some of the largest dental organizations in the country, and continues to offer its full-range of services to dental clinicians around the world. For more information about Progressive Dental Marketing please visit the website at http://www.progressivedentalmarketing.com or call 727-286-6211 to schedule a complimentary dental marketing consultation.
Share article on social media or email: