In this interview, Mutlu Özcan, Prof Dr Dr hc, PhD from University of Zürich, lavishes us with details about Reconstructive Dentistry
Here, Mutlu Özcan from the University of Zürich lavishes us with details about Reconstructive Dentistry in this enlightening interview. First, she explains what she does and her clinical expertise activities in the field, with a particular emphasis on the application of dental biomaterials. We also find out about the ongoing research in the field plus some of the current and future biomaterials used for dental application.
Mutlu also explains how the need for dental therapies and intervention approaches have changed during recent years. How Reconstructive Dentistry offers faster, simpler and more reliable applications which are beneficial from a technical perspective as well as benefiting the patient is also explored. Finally, Mutlu reveals her hopes for the future of Reconstructive Dentistry and the use of dental biomaterials.
First of all, could you please tell us a bit more about what you do and your clinical expertise work in Reconstructive Dentistry, with a particular emphasis on the application of dental biomaterials?
After receiving my Dental Surgeon (DDS) Degree in 1993, I completed my residency in Prosthodontics, and I specialised in this field. Advances in the field of biomaterials and technologies have always been the driving force in generating alternative therapy options in almost all disciplines of dentistry. Since my specialisation in the field began, dentistry benefits from such developments and today, many treatment solutions are offered to our patients. During my residency, I worked as a clinical supervisor in academic settings, where I primarily treated geriatric patients in need of removable dentures, as well as those who need fixed appliances such as tooth- or implant-borne conventional fixed dental prosthesis (i.e. crown and bridgework), primarily using gold or metal-ceramics.
The clinical failures I have observed during those years and the invasive nature of the interventions, namely more drilling and easy decisions for tooth extractions, played a significant role in developing my research line over the years. This was also the time where I started to dwell more on adhesive dentistry, which changed the classical face of prosthetic dentistry and definitely made it less invasive (Figs. 1a-d). Today, a result of intensive translational and clinical research with a particular emphasis on the application of dental biomaterials, my clinical expertise focuses on the application of minimally invasive, adhesive procedures in prosthetic dentistry, complication management and offering cost-effective treatment options.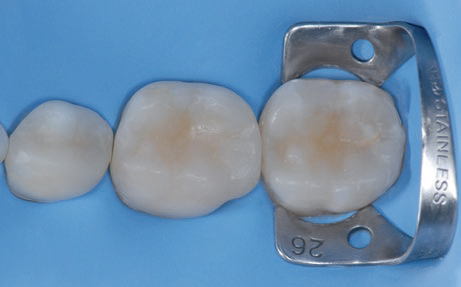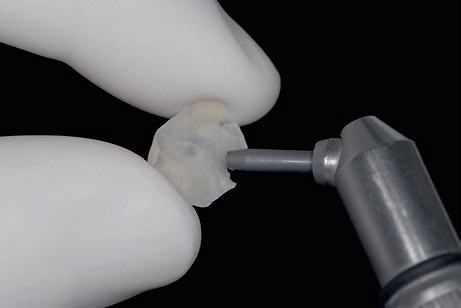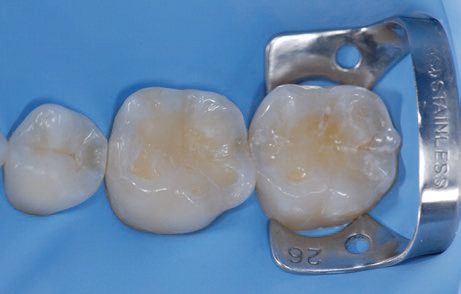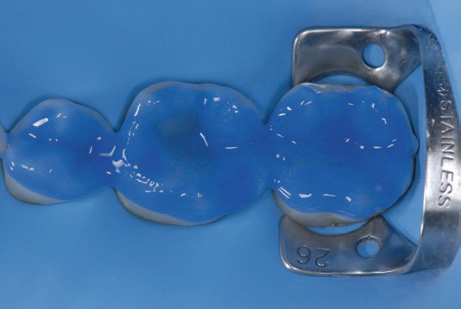 Essentially, adhesive dentistry narrowed the interface between Prosthodontics and Restorative Dentistry which is why the Prosthetic discipline is referred to as Reconstructive Dentistry. All my research and clinical efforts are directed towards saving any available dental hard and soft tissues, avoiding tooth extractions, practicing preventive measures and increasing the long-term durability of dental reconstructions, while developing new biomaterials.
What are dental biomaterials and why is ongoing research in this area so important? Tell us about some of the current and future biomaterials used for dental application.
Typically, dental biomaterials are classified under metals, polymers and ceramics, all of which have certain advantages and limitations. Metals still provide the best durability in large dental reconstructions or implants, especially due to their ductility. Recent technologies based on milling and additive processing strategies also decreased cumbersome production methods. The developments in the field of high strength ceramics such as lithium disilicate and zirconia during the last three decades allowed us to fabricate metal-free, aesthetic reconstructions or zirconia implants. Yet, their brittleness is still an issue and to overcome this limitation, so composite ceramics are continuously being developed. On the other hand, a wide range of polymers, namely resin-based composite materials, particularly helped practitioners to restore missing dental tissues directly in a minimally invasive fashion.
Also, additive technologies can process a large palette of polymeric materials which opened new possibilities for regenerative purposes.
The ongoing research in this area is important, especially considering increasing life expectancies. Due to the ageing population, expectations increase for the long-term survival of dental rehabilitations which will require optimisation of dimensions and intrinsic properties of biomaterials processed either using conventional or digital technologies. Therefore, innovations in the field of new materials with increased durability and regenerative aspects, imitating the anisotropic structure of natural tissues, be it enamel, dentin or bone, are current challenges.
How have the needs for dental therapies and intervention approaches changed over recent years?
Current dental needs of society are multi-dimensional, but fundamentally they consist of the increasing lifespans of human beings, constantly functioning aggressive oral environment, multimorbidity, changes in saliva flow, pH and, of course, the presence of biofilm and inflammation of the gums resulting in loss of dental tissues. Moreover, lifestyle changes, stress-related dental breakdown or caries may also yield to the need for restoration of the dentition. In recent years, the profession also faces the emerging problem of dental erosion in patients, a major cause of the loss of mineralized tooth structure as a result of extrinsic acid in erosive diet or intrinsic aetiology such as anorexia, bulimia nervosa or gastric reflux.
In terms of intervention, in part due to the demands of patients, approaches have shifted more towards fixed reconstructions instead of removable ones, more aesthetic solutions and where possible, metal-free reconstructions.
How can Reconstructive Dentistry offer faster, simpler and more reliable applications which are beneficial from a technical perspective as well as benefiting the patient?
On the production side in Reconstructive Dentistry, computer-aided design and computer-aided manufacturing (CAD/CAM) systems, rapid prototyping, additive technologies (3D printing) allow for faster, simpler and more reliable applications. Since operator related errors are minimised, high-quality versions of the reconstructions can be ensured. Digital workflows also enable clinicians to combine all possible information during the diagnostic phase, which could be beneficial during the design and fabrication of the reconstruction. The field is very dynamic, but often digital workflow requires costly investments. Nevertheless, chairside applications and delivery of the reconstruction on the same day of the dental visit, sometimes within a couple of hours depending on the size of the reconstruction, decreases the number of visits to the dentist and may, therefore, be more efficient and cost-effective for the patients.
What do you hope for the future of Reconstructive Dentistry and the use of dental biomaterials?
For several decades now, much effort has been spent on improving metallic, ceramic and polymeric materials used in Reconstructive Dentistry but major problems occur – in terms of the ageing of materials, wear, discolouration, fractures, surface degradation or biocorrosion of ceramics, polymers and dental alloys – presenting challenges that we still need to tackle within the field of dental biomaterials research. This also applies to implant materials. One of the most devastating current clinical challenges is the increasing incidence of peri-implantitis and consequences to the overall systemic health where pathology and genetic elements together with biocorrosion play a significant role in the aetiology. I do hope that new bioinspired materials with regenerative potential along with surface properties that would not accumulate microorganisms, will advance shortly.
Is there anything else you would like to add?
Regardless of all advances in dental biomaterials as reconstruction or implant materials, the ultimate goal for the dental profession should be prevention. It should, however, be noted that future preventive solutions will also require the implementation of materials science knowledge, but perhaps at more micro-, meso-or nano-level.
Please note: This is a commercial profile
© 2019. This work is licensed under a CC BY 4.0 license. 
Editor's Recommended Articles