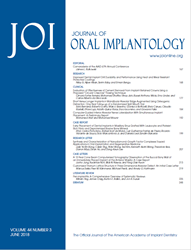 After the results of this study, it will be wise to be careful when using long locator abutments in thick gingivae.

LAWRENCE, Kan. (PRWEB)
July 02, 2019
Journal of Oral Implantology – After a permanent tooth extraction, proximal soft tissue and jaw bone can atrophy, making dental prosthetic installation difficult. The use of the implant locator denture retention device is popular because it includes an attachment system that has better stability than previous used systems. However, traditional dental prosthetics are subject to limitations and often lead to bone loss. Because little research has focused on patient prognosis with the locator system, a recent study in the Journal of Oral Implantology evaluated risk factors that contribute to bone loss with this system.
Researchers from Eskişehir Osmangazi University in Turkey retrieved clinical information of 57 patients fitted with the implant locator system and a dental prosthesis between 2014 and 2018. They used panoramic dental x-rays to measure patient bone levels, implant length and diameter, distance between tissue anchors and the abutment (the implant fixture that attaches a prosthesis to the jaw ridge) height. Next, they conducted statistical analyses to understand whether patient characteristics (sex and age) and implant characteristics were risk factors for bone loss.
Abutment height alone was a significant risk factor for bone loss of the jawbone at 6, 12, and 24 months post-installment. More specifically, an abutment height of 4 millimeters (mm) contributed to more bone loss than 2-mm and 3-mm abutment heights. The authors reason that the 4-mm abutment height likely causes more bone loss because more stress is exerted on the gum tissues around the implant. When the abutment is higher, the attached prosthesis may rotate and the movement can induce (albeit slight) implant instability. In turn, there is more stress on the bone during chewing. This movement and subsequent stress can cause not only bone loss but also irritation, soreness and infections.
One limitation of the study is that the retrieved clinical information did not describe why abutment heights were chosen for each patient. However, author Ömür Dereci stated, "Clinicians are choosing locator abutments according to the gingival thickness around implant healing abutments. After the results of this study, it will be wise to be careful when using long locator abutments in thick gingivae. In that case, clinicians should choose to surgically reduce the gingival thickness instead of using long abutments."
Now that it is known that 4-mm abutments may cause bone loss, clinicians can make more informed decisions for the long-term viability of the dental prosthesis and their patients' comfort. Full text of the article "Assessment of the Effect of Clinical Risk Factors on Marginal Bone Loss in 2 Implant-Supported Locator Retained Mandibular Overdentures," Journal of Oral Implantology, is available at https://doi.org/10.1563/aaid-joi-D-18-00193
###
About the Journal of Oral Implantology

The Journal of Oral Implantology is the official publication of the American Academy of Implant Dentistry and of the American Academy of Implant Prosthodontics. It is dedicated to providing valuable information to general dentists, oral surgeons, prosthodontists, periodontists, scientists, clinicians, laboratory owners and technicians, manufacturers, and educators. The JOI distinguishes itself as the first and oldest journal in the world devoted exclusively to implant dentistry. For more information about the journal or the society, please visit http://www.joionline.org
Share article on social media or email: