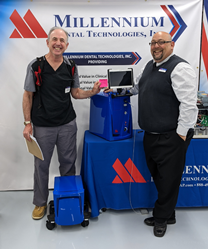 "Adding the LANAP and LAPIP treatment protocols gives me – and my patients – another effective option to save teeth or treat an ailing dental implant." Robert A Horowitz, DDS

SCARSDALE, N.Y. (PRWEB)
July 13, 2021
Robert A. Horowitz, DDS, today announced the addition of the LANAP and LAPIP protocols to his periodontal practice in Westchester County.
"As a periodontist, I specialize in treating gum disease and my goal is to save teeth. Adding the LANAP and LAPIP treatment protocols gives me – and my patients – another effective option to save teeth or treat an ailing dental implant," states Dr. Horowitz.
Dr. Horowitz has over 22 years of experience with many different dental lasers. The LANAP protocol for the treatment of periodontitis and the LAPIP protocol for the treatment of peri-implantitis are performed with the PerioLase® MVP-7™ dental laser. The PerioLase MVP-7 selectively targets and destroys the inflammatory bacteria causing gum disease, all without harming healthy tissue. The minimally invasive protocols have the potential to regenerate bone using the body's natural healing ability. The LANAP protocol is the only laser gum surgery backed with histological and clinical science; the treatment is patient friendly, with little discomfort and a short recovery time.
"Simply put, the LANAP protocol is an extremely effective approach to battling gum disease," states Dr. Horowitz. "By reducing post-operative pain, the number of treatment sessions required and the recovery time, LANAP treatment lessens patient fear and can help more patients receive the care they need."
Experts estimate that over 50% of the US adult population suffers from gum disease. Symptoms can range from red, swollen gums to bad breath to bleeding when brushing – or no visible symptoms at all.
The LANAP protocol can be performed in as little as one treatment session. It is safe and offers health benefits for patients with health concerns such as diabetes, heart disease, and those on most blood thinners. A tiny laser fiber (about the thickness of three hairs) is inserted between the tooth and the gum and the infection is cleared away without cutting or stitching of the gums. The tooth roots are then thoroughly cleaned of tartar and plaque, and the laser is used again with a different setting to create a stable, firm blood clot to seal the pocket. Most patients are able to drive themselves back to work or home following the procedure and do not need prescription pain medication.
We welcome patients in Westchester County and the surrounding areas. Contact our office at (914) 723-3366 or visit our website at RobertHorowitzDDS.com for more information about the LANAP or LAPIP protocols and other periodontal care.
###
ABOUT ROBERT A HOROWITZ, DDS

CONTACT: HTTPS://ROBERTHOROWITZDDS.COM/ | 914-723-3366
Dr. Horowitz completed his Bachelor of Science degree in Genetics and Microbiology at Cornell University, and in 1982, he graduated from the Columbia University College of Dental and Oral Surgery. Since that time, Dr. Horowitz has worked nonstop to provide premium dental care to patients in Scarsdale, New York, and the rest of Westchester County.
Dr. Horowitz completed a one-year general practice residency in dentistry, a 2-year residency in Periodontology at the Manhattan VA Hospital and NYU College of Dentistry (1983-1985), and a 2-year residency in Implant Dentistry at the NYU College of Dentistry (1994-1996). After finishing his periodontal and implant dentistry residencies, Dr. Horowitz began working at his current office with his father, who also was a dentist. When his father retired, he took over the practice.
Dr. Horowitz has a passion for the latest in dental technology and has stayed up-to-date on all of the current trends in patient care. He takes continuing education courses weekly, and attends numerous major conferences each year to stay abreast of the latest developments in dentistry. He continues to research and lecture at NYU about the latest dental techniques and has contributed to the fields of microscopic surgery, bone growth factors, bone graft materials, and the optimization of dental implants. He also has years of experience, and has presented on the topic of enhanced orthodontic therapy to his peers. You're in good hands!
Share article on social media or email: