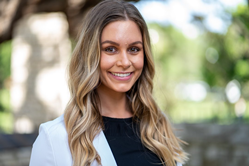 "I am thrilled to be a part of this team of talented dental professionals. My goal is to provide attentive, personalized orthodontic dental care to patients in this community, giving them the confidence of a great smile," says Dr. Kimberly Cuddy

NEW BRAUNFELS, Texas (PRWEB)
August 31, 2021
Dr. Archie Gomez and his skilled dental team at Sapphire Creek Dental provide the best in comprehensive dentistry for the entire family, offering a wide variety of oral health care services. Dr. Kimberly Cuddy has recently joined the experienced team and is prepared to help patients achieve healthy, confident, straighter smiles by reaching their orthodontic goals. Dr. Cuddy grew up in Buffalo, NY, where she completed her undergraduate degree in biomedical sciences at the State University of New York at Buffalo in 2009. She went on to receive her DDS degree in 2013 from the University at Buffalo School of Dental Medicine. She then furthered her training by completing a general practice residency at Erie County Medical Center in 2014.
Looking to escape the cold and snow, she moved to San Antonio, Texas, in 2014. Dr. Cuddy worked as a general dentist for several years, where she and Dr. Gomez first became colleagues. Upon adding Invisalign treatment to her practice, she fell in love with orthodontics and decided to go back to school. She received a certificate in orthodontics at UT Health San Antonio School of Dentistry, moved to Austin, TX, and has spent the last 3 years practicing orthodontics.
"I am thrilled to be a part of this team of talented dental professionals. My goal is to provide attentive, personalized orthodontic dental care to patients in this community, giving them the confidence of a great smile," says Dr. Kimberly Cuddy
More about Sapphire Creek Dental:
Sapphire Creek Dental is located at 2180 State Hwy 46, W. Suite 106 in New Braunfels, TX.
This state-of-the-art family dental clinic offers a wide variety of oral health care services, ranging from general, restorative and cosmetic dentistry to orthodontics, pediatric dentistry, emergency care and special needs dentistry. Archie Gomez, DMD, and his team offer exceptional dentistry, utilizing cutting-edge technology, such as digital x rays and intraoral cameras, for safe, highly efficient oral health care. Sapphire Creek Dental is committed to its patient's lifelong dental health journey. The team provides personalized treatment plans to give patients access to the best information regarding their oral health. The welcoming practice offers a stress-free, comfortable atmosphere with many amenities, including blankets, headphones, a beverage bar, play area and flat-screen TVs to watch during appointments. Sapphire Creek Dental also makes visits convenient by having extended hours from 7 am-7 pm and offering Saturday appointments. Most dental insurance plans are accepted, and they have payment options available to meet all types of budget needs. Please visit http://www.sapphirecreekdental.com or call (830) 400-4035 for more information or to schedule an appointment.

Share article on social media or email: