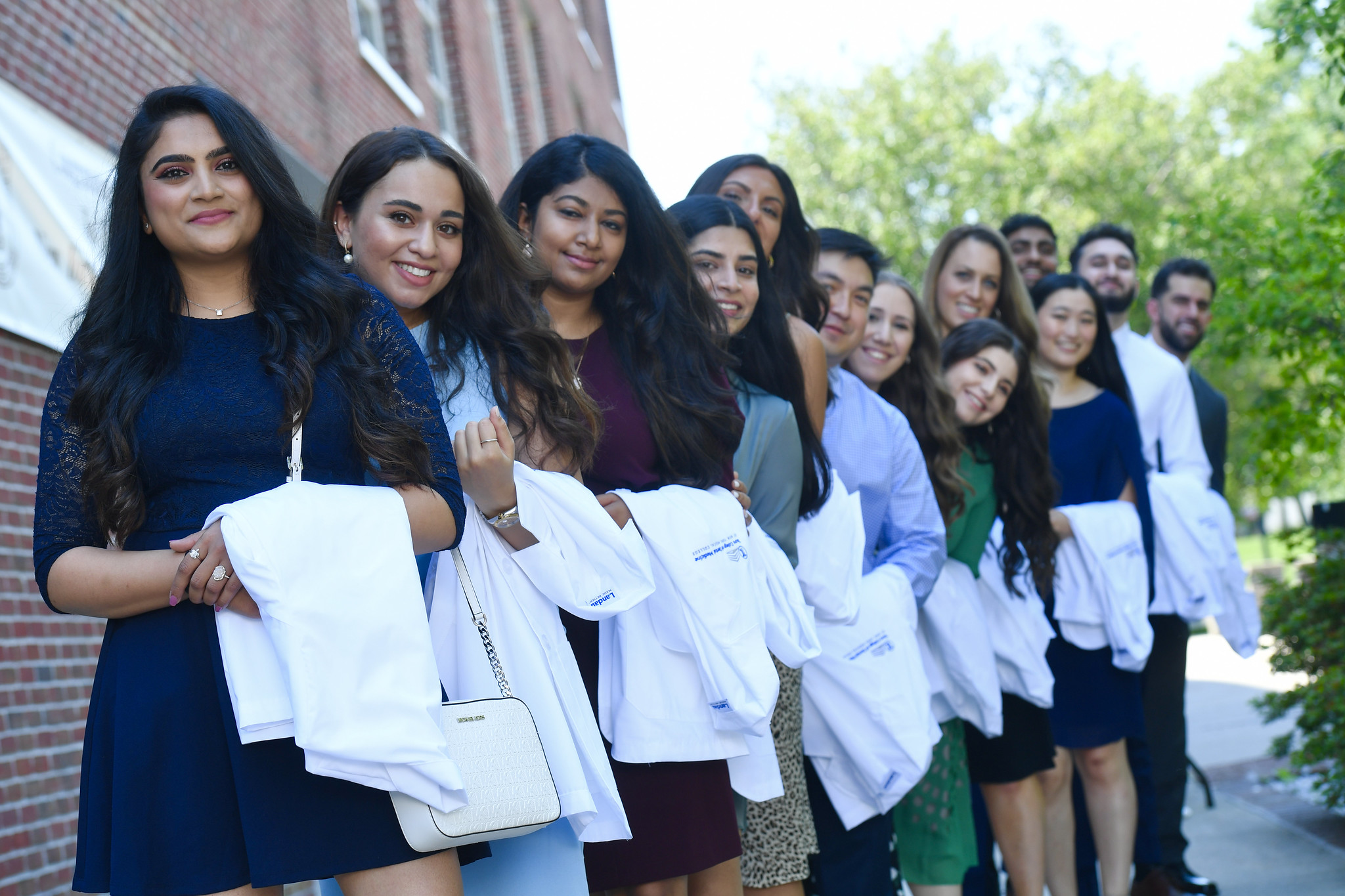 Students at the Class of 2023 White Coat Ceremony
"Today marks an incredible milestone in the development of you the students of TCDM. This milestone, this donning of the white coat, this one giant leap, of going from library, simulation lab recluse to clinical oral health care provider, will be remembered throughout your entire professional career," said Ronnie Myers, D.D.S., Dean of TCDM. "We mark this day with great celebration and remarkable anticipation as you begin on the second half of your incredible journey."
The donning of the white coat is symbolic of a student's commitment and dedication to the profession of dentistry. This special event marks the beginning of a new chapter for the Class of 2023 in the clinical setting as dental care providers.
Touro College alumni and campus rabbi, Baruch Fogel led an invocation prayer for success and extended blessings for the Class of 2023 and their support systems, including family, friends and TCDM faculty.
The White Coat Ceremony keynote speaker was Amid Ibrahim Ismail, B.D.S., M.P.H., Dr.PH., M.B.A., the Laura H. Carnell Professor and Dean of the Temple University Kornberg School of Dentistry, and diplomate of the American Board of Dental Public Health.
"What's the meaning of white coat? White is used to surrender; white is used as a sign of neutrality," said Dr. Ismail to the Class of 2023. "You are not surrendering to anyone, but you're surrendering maybe to your patients. A successful dentist will listen, understand, empathize, and treat all people equal regardless of who they are. If you care about the patients, the patients will care about you."
Accomplishments amongst students and faculty in the preclinical sciences were also recognized throughout the ceremony.
Shahrzad Mirafzali, D.D.S., was the recipient of TCDM's Preclinical Faculty of the Year Award. Dr. Mirafzali, who was nominated by TCDM students, was recognized for her unwavering commitment to training students and for her guidance and support in preparing them for success as they enter clinical healthcare.
Additionally, the very first Louis Rubins, D.D.S. Memorial Scholarship was awarded to outstanding D3 student Madison Cairo for excellence in preclinical prosthodontics. The award was established in memory of Dr. Rubins, a dedicated founding faculty member who was the consummate perfectionist when it came to the delivery of dental care. He was known to all as a zealous teacher, and fondly called, "redo Lou" because of his sincere desire for students to strive for and be the best they could be.
Mrs. Zel Rubins joined the ceremony to be part of this very special award, which will be given annually to a rising D3 student.
To close out the ceremony, 114 members of the Class of 2023 stepped into the clinical stage of their dental education by reciting the Dental Student Oath and donning their white coats.
These students will now begin their clinical practice at Touro Dental Health, under the supervision of expert faculty, providing reduced-cost dental care to members of the Westchester community and surrounding counties and applying their foundational knowledge in the patient care setting.
Photos of the event can be found here.