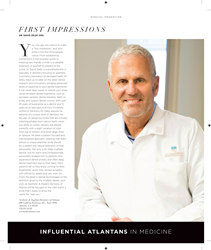 It has been such a pleasure serving patients for all these years with excellence in dentistry. I am so honored to be recognized by The Atlantan with this accolade, says Dr. David Zelby

AUSTIN, Texas (PRWEB)
September 04, 2020
Dr. David Zelby, is recognized by The Atlantan as one of the city's top leading and influential medical professionals in their September 2020 issue. Dr. Zelby of Aesthetic & Implant Dentistry of Atlanta is a prosthodontist, specializing in the aesthetic restoration and replacement of teeth, dental implants, veneers as well as cosmetic dentistry. As a leading prosthodontist, Dr. Zelby has years of extra training and is uniquely qualified to create restorations, such as crowns and bridges, that replicate the natural feel and appearance of your teeth. For the past 30 years, Dr. Zelby has been known around Atlanta as a compassionate and gifted cosmetic dentist and implant specialist, well-versed in both general and prosthodontic procedures. He skillfully blends art and advanced dental techniques, changing the smiles of thousands of his patients. David Zelby, DDS embarked his lifelong passion in perfecting dental techniques and changing the lives of patients by earning his general dental degree from the NYU School of Dentistry in 1974. After graduating, he spent one year in residency at French and Polyclinic Hospital in New York City and continued his education to become a certified prosthodontist at South Carolina College of Dental Medicine. After establishing his first clinic in Midtown, Atlanta, he moved his practice in 1992 to the Cobb Galleria Office Park and established Aesthetic & Implant Dentistry of Atlanta. He expanded his practice in 2010, building a new state-of-the art dental center. Dr. Zelby has shared his extensive knowledge by teaching at Emory University Dental School for 12 years and he is currently a clinical instructor of dentistry at Ben Massell Dental Clinic for Georgia Regents University School of Dental Medicine. Dr. Zelby is devoted to staying on top of scientific and technological developments in general and prosthetic dentistry. Public service is another hallmark of Dr. Zelby's career, and he has been recognized on multiple occasions for his commitment to serving the underprivileged, including being given the title of "Honorary Senator" for the state of Georgia by Governor Casey Cagle in August of 2008.
"It has been such a pleasure serving patients for all these years with excellence in dentistry. I am so honored to be recognized by The Atlantan with this accolade," says Dr. David Zelby
More about Aesthetic & Implant Dentistry of Atlanta:
Aesthetic & Implant Dentistry of Atlanta is located at 200 Galleria Pkwy SE, Suite 1830 in Atlanta, GA. Dr. David Zelby and his dental team are dedicated to providing outstanding service to every patient. They offer a full range of general and cosmetic dental services, from the latest aesthetic dental enhancements to the most complex full-mouth restorations.
For more information about Dr. Zelby and Aesthetic & Implant Dentistry of Atlanta please call 770-955-0550 or visit http://www.newsmileatlanta.com.
Share article on social media or email: